Episode 100.5 – Meaty Confessions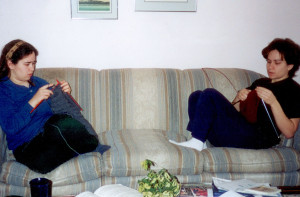 The episode 100 fun continues!
The first official Savvy Girls Crochet-Along and Knit-Along are well underway, and we're already starting to see some great progress. You should join in!
Savvy Mom's back and she's in New York. Naturally, that's a perfect chance for Deborah to interview her on-air.
She also brings back the knit-lit, with a passage from book about Jean François Millet
 about his painting, The Knitting Lesson.
Then, we bring back an old segment, one which inspired our biggest Ravelry discussion thread: Confessions!
Melanie also sneaks in a recording of her singing one of her favourite Irving Berlin tunes.
And finally, as promised, the girls announce the episode 100 contest!
Send us your entry however you want: email, comment, Ravelry, Twitter, Facebook… you get the idea. There are some great prizes up for grabs, so be sure to enter before July 15.
Podcast: Play in new window | Download (46.8MB)