Episode 46 – A Family Affair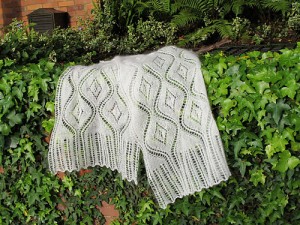 It's Passover, and (almost) the whole family is podcasting!
Melanie is in St. Albert getting ready to go to Europe, and Deborah is heading home for a visit.
Before she left New York, Melanie performed with some friends in New Jersey. Somehow, the knitting talk just couldn't be avoided.
Deborah finally finished her friend's beaded lace wedding shawl. (Check out her Ravelry project page for more pics and info.)
Savvy Mom joins Melanie to read some knit-lit: an excerpt from one of L.M. Montgomery's spooky tales; and SavvyDad is back, with insightful answers to all of your pressing questions.
Deborah waxes eloquent on the joys of springtime knitting, and an award-winning designer drops by for a visit…
Podcast: Play in new window | Download (52.7MB)