Episode 59 – A Passel of Sheep and Wool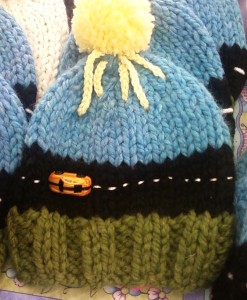 This weekend (October 14-16), the Savvy Girls are going to Rhinebeck! (AKA The New York Sheep & Wool Festival)
They're super-excited, and they've got lots of related fun planned. If you're in the area, come by one of the meetups (details below) and say hi.
Shockingly enough, though, there is life outside of Rhinebeck.
Deborah has been sewing.
Melanie and Savvy Mom interviewed a very creative knitter at the local farmer's market.
The next Canadian Special Olympics are being held in the Savvy Girls' home town. Support the games by knitting or crocheting a scarf for the participants!
SavvyBubby is back… and SavvyUnc makes a triumphant entrance with his very own Bringing It Back word: passel.
Join the movement and help us to bring this great word back.

Rhinebeck Meetups!
If you're going to be at Rhinebeck this weekend we'd love to meet you.
We've got two meetups planned:
On Friday, we're going to be at Kyoto Sushi in Kingston, New York. If you're able to join us for dinner, give us a shout.
We'll also be at the official Ravelry meetups, on both Saturday and Sunday at noon. Details here.
Podcast: Play in new window | Download (46.1MB)