Episode 87 – Reunited in the City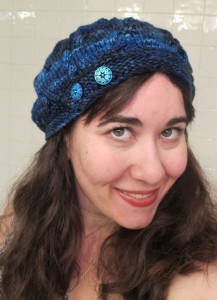 The girls are in New York and back together!
They've both been busy setting up their new apartment, but now that they've gotten settled they can get back to what's important: knitting!
Melanie's finished a couple of projects: A Madeline Tosh Poet Society Tam, and a Fortnight hat.
Deborah has finally finished knitting her Kleio shawl, and she talks about her experiences and offers some tips and tricks.
Of course, there's more to life (and this show) than just knitting. Deborah talks about her strategies for clearing clutter in her life.
Melanie, meanwhile, bemoans her negative review on Amazon. (If you disagree, feel free to vote it down or leave your own review.)
Finally, we finish off with some more interviews from TNNA: Janet from Fleece Artist and Handmaiden Fine Yarn, Roxanne from Zen Yarn Garden, and Francis from Cestari Sheep and Wool Company.
Podcast: Play in new window | Download (75.7MB)